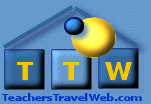 Free Bed & Breakfast and home exchange for teachers
Stay with other members in Bed & Breakfast style or exchange homes – for free. There is no accommodation cost or booking fee. Your membership is only 45 Euro for a whole year (79 Euro for two years). Enjoy the hospitality of a home stay, find reliable home exchangers or become a house-sitter.


Join, and contact other members to arrange your stays
You can look up right now where Teachers Travel Web has members. Once you have joined you can browse the detailed members' profiles. You then contact them through email and start planning your stays: on short breaks, for your holidays, nearby or far away, on a city trip, for a weekend, to go hiking...
Open to all educators, trainers and school staff
As a teacher, educator, trainer or counsellor you can become a member. Your partner is included. You're also welcome if you're retired or used to be a teacher. Other school staff are invited, too. Wherever you go, you'll meet people with a similar background and interests.
More information: http://www.teacherstravelweb.com/